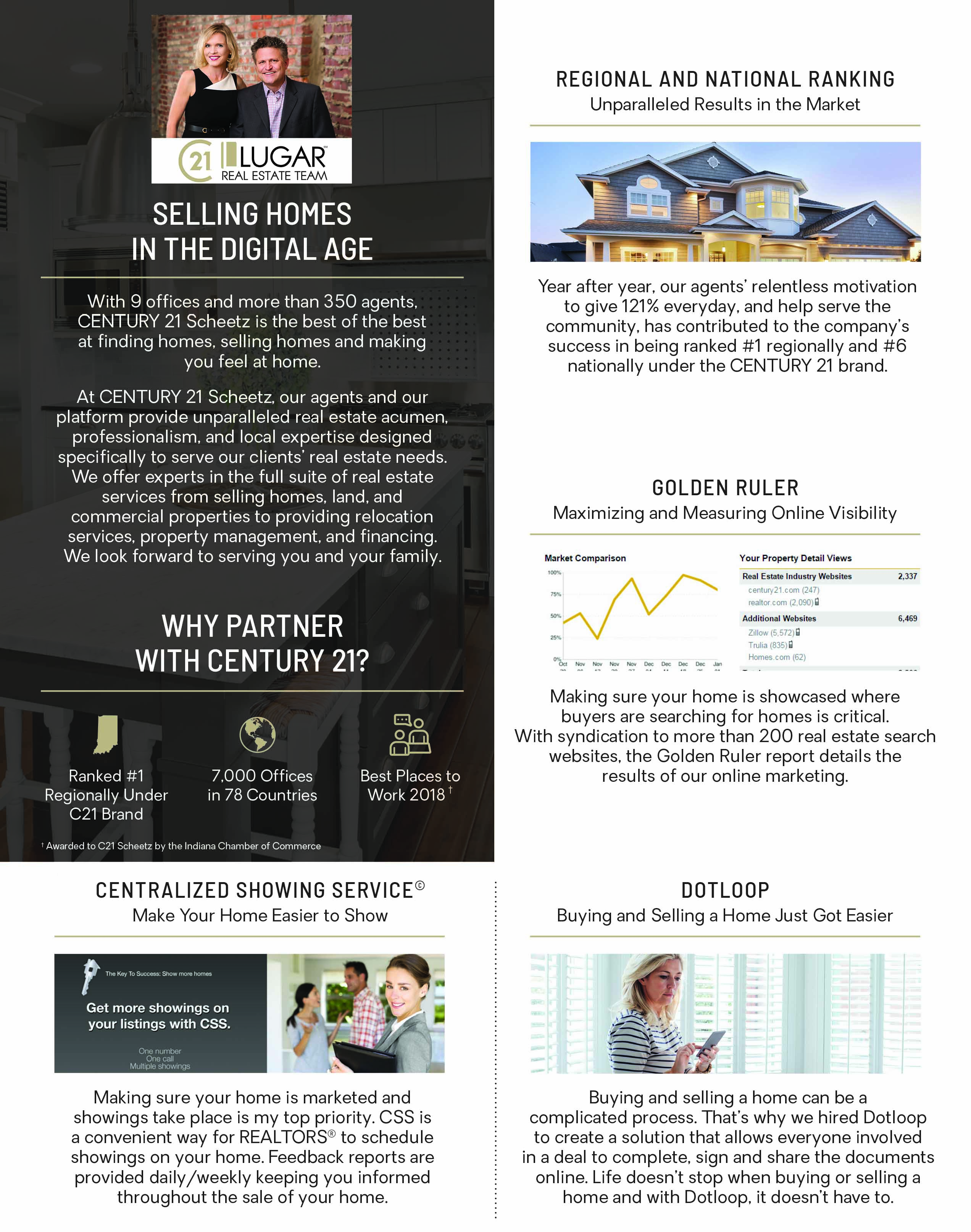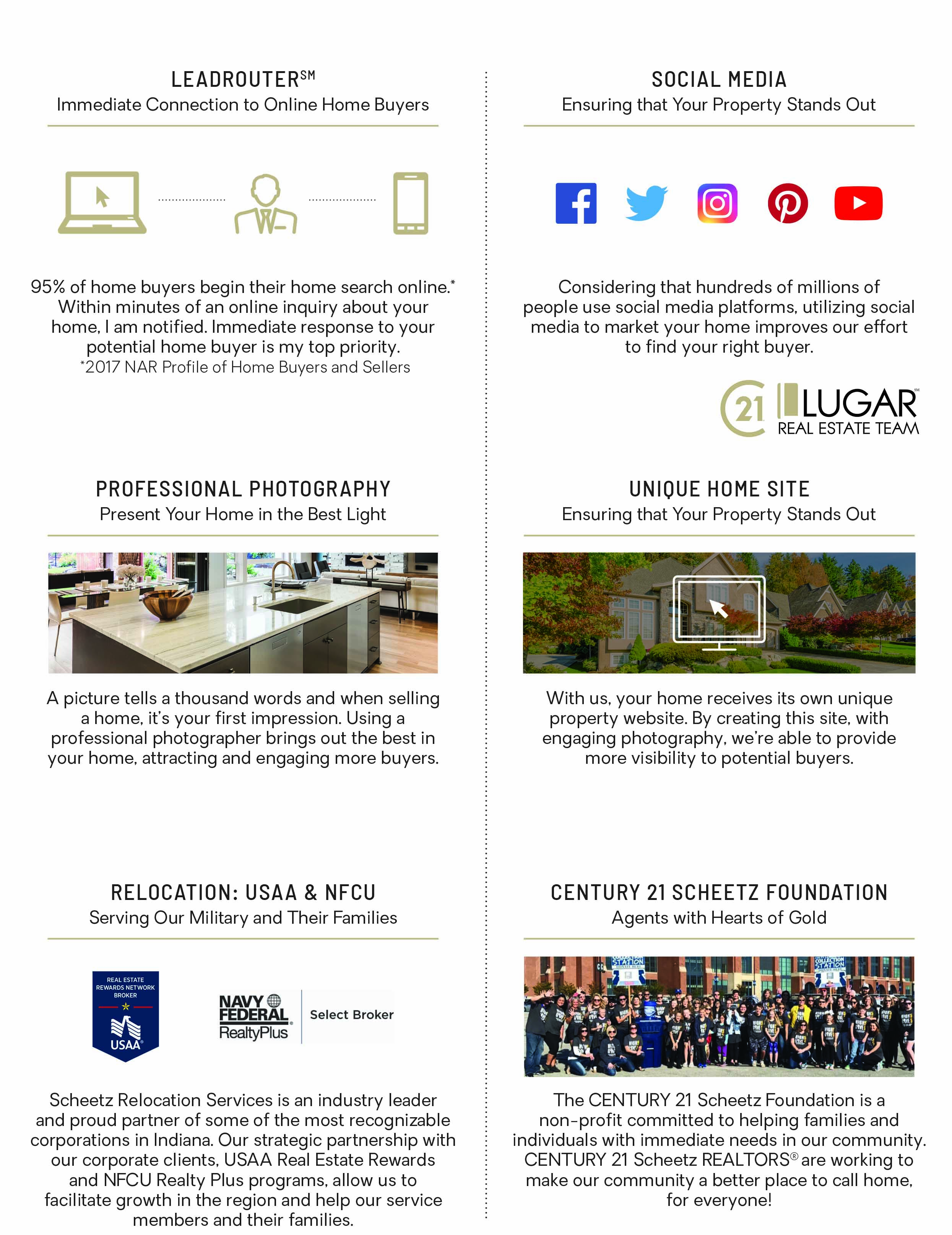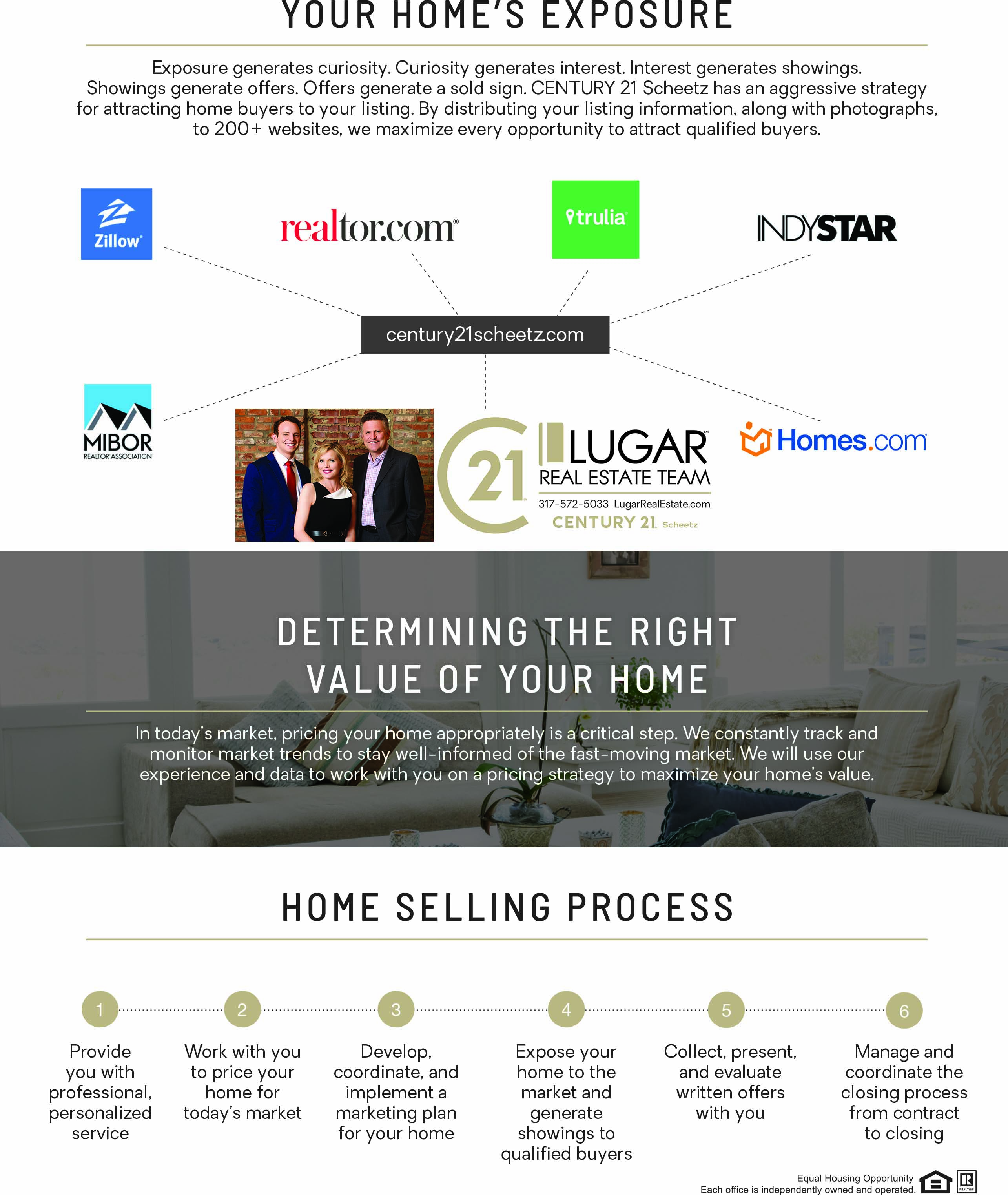 SELLING HOMES IN THE DIGITAL AGE

With 9 offices and more than 350 agents. LUGAR REAL ESTATE at CENTURY 21 Scheetz is the best of the best at finding homes, selling homes and making you feel at home. Our platform provides unparalleled real estate acumen, professionalism and local expertise designed specifically to serve our clients' real estate needs. We offer experts in the full suite of real estate services from selling homes, land, and commercial properties to providing relocation services, property management. and financing. We look forward to serving you and your family.
WHY PARTNER WITH BETH LUGAR REAL ESTATE at CENTURY 21?
Ranked #1 Regionally Under C21 Brand
7,000 Offices in 78 Countries
Best Places to Work 2018
SERVICES TO SELLERS
CENTRALIZED SHOWING SERVICE® We Make Your Home Easier to Show
Making sure your home is marketed and showings take place is my top priority. CSS is a convenient way for REALTORS® to schedule showings on your home. Feedback reports are provided daily /weekly keeping you informed throughout the sale of your home.
REGIONAL AND NATIONAL RANKING Unparalleled Results in the Market
Year after year, Beth Lugar's relentless motivation to give 121% everyday, and help serve the community. has contributed to the company's success in being ranked #1 regionally and #6 nationally under the CENTURY 21 brand.
GOLDEN RULER/PREMIERE ZILLOW AGENTS
We Maximize and Measure Online Visibility.Making sure your home is showcased where buyers are searching for homes is critical. With syndication to more than 200 real estate search websites, the Golden Ruler report details the results of our online marketing.
Beth and Jack Lugar have been Premier Zillow Agents and partner with Zillow to make sure your home is showcased.
Buying and Selling a Home Just Got Easier
Buying and selling a home can be a complicated process. That's why we hired Dotloop to create a solution that allows everyone involved in a deal to complete, sign and share the documents online. Life doesn't stop when buying or selling a home and with Dotloop, it doesn't have to.
We provide Immediate Connection to Online Home Buyers. 95% of home buyers begin their home search online. Within minutes of an online inquiry about your home, I am notified. Immediate response to your potential home buyer is my top priority.
We Present Your Home in the Best Light. A picture tells a thousand words and when selling a home, it's your first impression. Using a professional photographer brings out the best in your home, attracting and engaging more buyers.
RELOCATION: USAA & NFCU Serving Our Military and Their Families
Scheetz Relocation Services is an industry leader and proud partner of some of the most recognizable corporations in Indiana. Our strategic partnership with our corporate clients. USAA Real Estate Rewards and NFCU Realty Plus programs. allow us to facilitate growth in the region and help our service members and their families. Beth Lugar is a certified USAA and NFCU Realtor and is committed to serving those in the Military. (My dad spent 2 years in Korea during the rebuilding of Korea shortly after the Korean War from 1959 – 1961.) Beth Lugar is also certified for CARTUS and BGRS and serves corporate clients with Eli Lilly, Roche, Kroger, Stanley, Sherwin Williams, Home Depot, Lowes, Community Hospitals, IU Riley, IU Methodist, St. Vicents and more.
We Ensure that Your Property Stands Out. Considering that hundreds of millions of people use social media platforms. utilizing social media to market your home improves our effort to find your right buyer.
With us. your home receives its own unique property website. By creating this site, with engaging photography. we're able to provide more visibility to potential buyers.
CENTURY 21 SCHEETZ FOUNDATION Agents with Hearts of Gold
The CENTURY 21 Scheetz Foundation is a non-profit committed to helping families and individuals with immediate needs in our community. CENTURY 21 Scheetz REALTORS® are working to make our community a better place to call home, for everyone! With every home sale we automatically give back and you are part of that.
Exposure generates curiosity. Curiosity generates interest. Interest generates showings. Showings generate offers. Offers generate a sold sign. CENTURY 21 Scheetz has an aggressive strategy for attracting home buyers to your listing. By distributing your listing information, along with photographs. to 200+ websites, we maximize every opportunity to attract qualified buyers.
DETERMINING THE RIGHT VALUE OF YOUR HOME
In today's market. pricing your home appropriately is a critical step. We constantly track and monitor market trends to stay well-informed of the fast-moving market. We will use our experience and data to work with you on a pricing strategy to maximize your home's value.
Provide you with professional personalize service.
Work with you to price your home or today's market.
Develop, coordinate, and implement a marketing plan for your home.
Expose your home to the market and generate showings to qualified buyers.
Collect. present. and evaluate written offers with you.
Manage and coordinate the closing process from contract to closing.